MN Break the Bonds is co-sponsoring a benefit concern on Sunday, August 17 that is raising funds for humanitarian aid to Gaza through music and solidarity. The show runs from 2:00pm-10:00pm. Suggested donation of $15 at the door. Come and bring your friends & family! All proceeds will be sent to ANERA for their work on the ground in Gaza.
For more information, check out the event's website at http://forthechildrenofpalestine.com/
Please consider making a donation to ANERA if you aren't able to attend the event.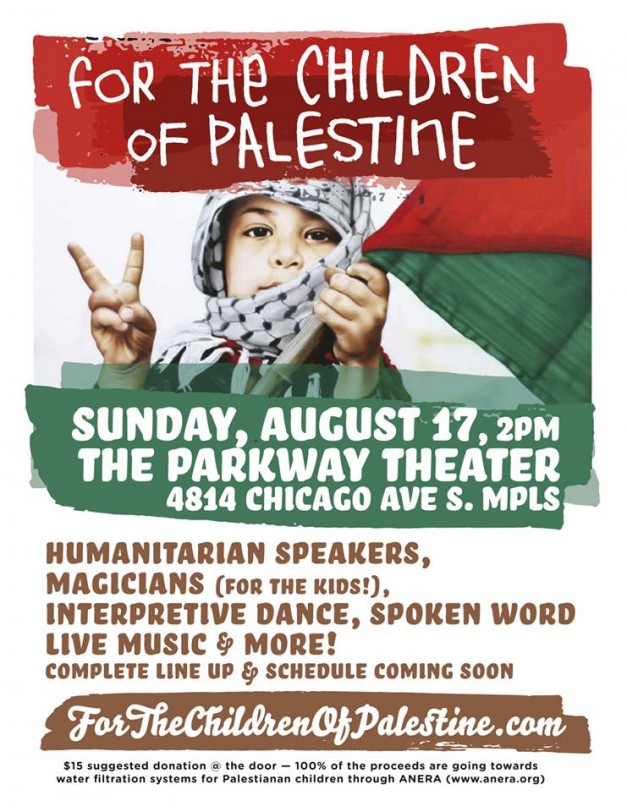 http://mn.breakthebonds.org/wp-content/uploads/2014/08/Benefit-Show-for-Gaza-154x200.jpg 154w, http://mn.breakthebonds.org/wp-content/uploads/2014/08/Benefit-Show-for-Gaza-300x388.jpg 300w, http://mn.breakthebonds.org/wp-content/uploads/2014/08/Benefit-Show-for-Gaza.jpg 741w" sizes="(max-width: 620px) 100vw, 620px" />