Minnesota Break the Bonds Campaign (MN BBC) members and supporters attended the quarterly State Board of Investment (SBI) meeting on March 4, 2015, as we have for almost all quarterly meetings for more than three years. More than 50 supporters packed the room holding signs that encouraged the SBI to divest from the Israel Bonds that it holds. More supporters were turned away from the overcrowded meeting room, held in the State Board of Investment offices, rather than its usual meeting place of the Capitol building, due to renovations at the Capitol. Also in attendance were two members of the Jewish Community Relations Council (JCRC) of Minnesota and the Dakotas.
Former Senator James Abourezk of South Dakota spoke on behalf of MN BBC. He spoke about why Minnesota should not be investing in a country which commits human rights abuses and undermines US Foreign policy, backing up his statements with a history of Israel's involvement in human rights abuses against both Palestinians and Americans. He was himself, the target of an attack because of his co-founding of the American-Arab Anti-Discrimination Committee, and his colleague, Alex Odeh was assassinated. Although the perpetrators of the murder were never brought to justice for that crime, Israel was clearly implicated.
It did not matter, however, what Senator Abourezk, a friend of Governor Dayton, said. The script for the day had been written in advance. For as soon as the opposing side from the JCRC spoke (Steve Hunegs spoke about the article that he and his friend Walid Issa wrote for the MinnPost, which said that Israel Bonds are a good investment and Israel has always repaid those bonds), Governor Dayton passed out pre-printed copies of his resolution calling for continuing investment in Israel Bonds. The decision had been made prior to the meeting. The debate that ensued did not discuss the issues that MN BBC had been bringing to their attention since the beginning of the campaign – that Israel uses the money from Israel Bonds for illegal purposes. Indeed, never in the history of our dealings with the SBI, have they addressed this issue, much less answered it to anyone's satisfaction.
So even though this is an apparent loss to our cause, it is also an opportunity for us to step back and look at our strategies in all our interactions with the SBI. While MN BBC has been active in many other areas, this posting will discuss what we have done just with the SBI. It is not written in chronological order, but rather by topic, and hopefully will give activists in other states and municipalities techniques and ideas in executing their campaigns.
The struggle continues! We will not give up until all Palestinians are accorded their full human rights!
We address the SBI
In 2011 at least 30 MN BBC supporters from all over the state (from as far away as Luverne in the southwest and Brainerd in the north central), read statements to the Board during the public comment period of the SBI meeting. Governor Dayton thanked everyone for coming and listened patiently as everyone spoke.
Since that time we have addressed the SBI many times, always insisting that their investments in Israel Bonds are illegal and immoral. At one meeting a student intern stood to speak and Governor Dayton fast-gavelled a close to the meeting. This was a disappointment for the student who had prepared his statement and was looking forward for a chance to speak. We then wrote a letter to Dayton, informing him that his rude behavior had been a frustration to a student who was just learning about the political system. After that letter Dayton allowed speakers again.
Lesson: In an open meeting system, the public has the right to speak. We always (well, almost always) remained respectful and non-disruptive, so there should not have been a reason to bar us from speaking. Always insist on your rights under the US and State Constitutions.
We have conversations with the Executive Director and staff of the SBI
We began speaking with the Executive Director, Howard Bicker, and his staff early in the campaign. None of us at the time had experience in getting information from governmental agencies and we find that, because we didn't ask the right questions, there were many details that Bicker never included in his responses to us (for example, that the Development Corporation of Israel thanked Howard Bicker personally for his "support of the State of Israel." It was only recently that we learned this fact.) But we did learn some essentials about the Israel Bonds: date of maturity, approximate amount of investment, average rates of return, and the fact which the SBI continually tries to claim, that they do not invest based on politics, but only for fiduciary purposes. Yet this letter which Bicker received belies that claim, since investing in Israel is a political act.
Lesson: It takes time to know what questions to ask. Get to know your State's equivalent of a FOIA request. In Minnesota it's called a Data Practices Act Request (see below).
MN BBC files lawsuit
We brought a lawsuit against the SBI in December 2011. (You can read the complete documents here.) We alleged three counts:
1. That the SBI had invested in Israel Bonds contrary to state statutes 11A.24 subdivision 2, which restricts investments in foreign sovereign bonds to those of Canada and requires substantial restrictions on those investments. We alleged that the State of Minnesota violated those statutes for Israel only, again showing political solidarity with a country against its own stated policy of investing only on the basis of fiduciary duty.
2. That the SBI had invested in Israel Bonds with the knowledge that the money from the sale of those bonds goes into the Israeli treasury and is distributed to various ministries, some of which carry on illegal activities according to both US and international law. The United States is a signatory of the Geneva Conventions and therefore it is incumbent upon all states to comply with those international treaties. Investments in activities which violate ratified international treaties are illegal according to the US Constitution.
3. That the SBI had violated the "prudent person standard" of investment, exposing the state's pensioners and taxpayers to potential lawsuits based on the harm caused by the international law violations.
The lawsuit was dismissed from the lower court and from the Appeals Court (November 2012) and the Supreme Court refused to hear the case. The court asserted that the SBI did have the legal authority to invest in foreign securities.
The important point which was not addressed is the fact that Israel uses the money from the sale of Israel Bonds for illegal purposes. This has not been disputed by the courts or the SBI.
Lesson: Don't get discouraged by apparent losses. There were many avenues to go after this dismissal. We began to pursue the avenue that the SBI had violated its own investment guidelines.
We begin a postcard campaign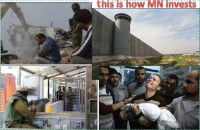 http://mn.breakthebonds.org/wp-content/uploads/2015/03/SBI-Post-Card-300x195.jpg 300w, http://mn.breakthebonds.org/wp-content/uploads/2015/03/SBI-Post-Card-627x409.jpg 627w, http://mn.breakthebonds.org/wp-content/uploads/2015/03/SBI-Post-Card.jpg 703w" sizes="(max-width: 200px) 100vw, 200px" />
The postcard campaign began about the time the lawsuit was filed. The front of the postcard shows pictures of desperation from the Occupied Territories, with the words "This is how MN invests." The back had a statement saying that the undersigned urged the SBI to divest from its Israel Bonds. Whenever we received a number of signed postcards we delivered them to the SBI. No acknowledgment was given on their receipt.
Lesson: It is vital that the broader community continues to be informed, educated and involved about the campaign and its purposes. A petition or postcard campaign is a great way to involve and educate people.
We allege that they are violating their investment guidelines
In September 2013 we delivered a report to the SBI called "Twenty Years of Failure – A Report on the MN State Board of Investment's Neglect of Human Rights". This White Paper pointed out that in the 1990s, then State Auditor (now Governor) Mark Dayton urged the SBI to adopt guidelines to include the consideration of human rights, labor practices and environmental practices in their investment decisions. Each country was to be categorized in one of three groups based on their human rights, labor and environmental records. A Group I country had the best record and investments could be made in those countries without restriction. Group II countries had laws protecting workers, but there were problems and fund managers who recommended those investments were required to make a statement that it would be a breach of the fund manager's fiduciary duty NOT to invest. Group III countries had the worst human rights, labor or environmental records and the fund manager had to justify a decision to invest in that country. Israel had always been placed in Group II, yet no fund manager ever was required to make the statement that it would be a breach of fiduciary duty not to invest in Israel… until we filed the lawsuit. In June of 2012 the first statements appeared. However these statements did not exactly say that it was a breach of fiduciary duty not to invest in Israel. The best the fund managers could muster was to say it was a breach of fiduciary duty not to have a diverse portfolio.
We also noticed that countries did not change classification from year to year. The country review process, originally required to take place annually, had been skipped for several years. After a Data Practices Act Request, we realized that they had changed the review period to quadrennially, and finally quit reviewing countries altogether after 2005.
Since they had neglected their own requirement for country reviews, we submitted a Shadow Report which reviewed Israel's human rights record based on the same categories that the SBI was supposed to have used. No response to either of these papers was received.
Lesson: Even though these are politicians who don't care about human rights unless it will get them votes in the next election, we thought we could shame them for not even following their own internal investment guidelines. It didn't seem to work, although who knows how they will react when suddenly they can support Palestinian human rights and not suffer political repercussions? We don't know what will affect someone, so we have to approach it with different tactics.
We file Data Practices Act Requests
Howard Bicker retired in 2013 and Mansco Perry replaced him as the Executive Director. We have met with Perry several times also, and he continues the claim that they only invest based on fiduciary reasons. Perry, however, has been much more forthcoming with records than his predecessor, and we have filed several Data Practices Act Requests from him.
These requests included any written material showing decisions on changing the country review process to extend it to four years instead of annually, and changes to the internal investment guidelines. The guidelines did not change until March 4, 2015 in an important motion that was most likely overlooked by most of our supporters attending that meeting.
The internal investment guidelines had been implemented when Dayton was State Auditor, with the encouragement of several labor unions. That they had not been followed was not an issue for them until MN Break the Bonds insisted that they should follow their own rules on investing. So without attracting any attention to what they were doing, Perry announced that the guidelines were being changed. From now on, the country grouping no longer applies to anything but "emerging markets." In other words, a developed country can commit whatever crimes against humanity it feels it needs to do and this will not prevent the SBI from investing in it. The SBI voted unanimously to adopt the changes.
Lesson: I already denigrated politicians – enough said!
We encourage them to not reinvest
We have consistently encouraged the SBI to divest from or not to reinvest in Israel Bonds. It is undisputed that the money from the sale of these bonds goes to illegal activities. We confronted the SBI with legal arguments and human rights arguments. We will not be deterred from seeking justice for Palestinians. March 4, 2015 was just another disappointment showing that the SBI, while claiming not to consider politics in their investment decisions, make the very political decision which will get them reelected. Even the fact that Dayton's own guidelines had to be thrown out in order to make his supporters happy was not enough to make him question his support of an apartheid state.
Here is the wording of the resolution which the board voted on following Abourezk's address:
The SBI declines to divest of its holdings in its bonds issued by the State of Israel and will continue to invest in the fixed and floating rate bonds offered by the State of Israel subject to a determination by the Executive Director that the rate of return is competitive, and that the duration, terms, amount and risk of the investment are consistent with sound investment practices and the prudent investor fiduciary standard of care in Minnesota Statutes 11A.09 and Section 356A.04.
In other words the SBI is letting Mansco Perry make the investment decision. If it's a good investment, they all get complimented, if it's a bad investment Perry may suffer some consequences, but the SBI will have made the politically expedient decision of showing solidarity with an illegal and inhumane regime.
Lesson: The March 4 meeting is not the end of the campaign. We continually find new arrows in our quiver! Stay tuned!
And Stay Human!
For an abridged video of the meeting on March 4, see: http://www.youtube.com/watch?v=eThLkKUV_-Y