Editor's note: A shortened version of the following was published in the October 27, 2015 issue of the Minnesota Daily:
When Fadi Alloun became the second Palestinian teenager in as many days to be killed by Israel, the campus chapter of Students for Justice in Palestine (SJP) re-posted a report by Electronic Intifada on their Facebook page. For this they were attacked as supporters of terrorism and "disgusting." As this is only the most recent of attacks on SJP, several organizations issued the following statement:
"For months the world has watched as the racial violence in Palestine perpetrated by Israeli civilians escalates while the Israeli government refuses to hold accountable those responsible. The extrajudicial execution of Fadi Alloun is a recent example. No attempt was made to arrest Alloun; he was killed by the military urged on by a mob of Israeli settlers. Only after his killing was he accused of having perpetrated a knife attack on an Israeli Jew, as if an excuse was needed to kill him without due process.
"The accusation is typical of a mentality that claims victimhood for the oppressors. The world is slowly waking up to Israel's human rights violations.
"Members of the SJP student group at the University of Minnesota are helping Minnesotans wake up and learn about these human rights violations. But as any human rights activist knows, exposing Israel's human rights abuses and international law violations makes one vulnerable to accusations of anti-Semitism from pro-Israel advocates. These advocates, bankrolled by wealthy right-wing neo-cons like Shelden Adelson, spend millions attempting to silence advocates for human rights, especially advocates for Palestinian rights, and most especially those on campuses in the US.
"Recently, the SJP became the target of some of these pro-Israel forces and has been on the receiving end of threats and accusations.
"This fits perfectly into the model that the Israel advocacy organizations typically use: accuse the students of anti-Semitism for speaking against Israeli human rights abuses, escalate to accusations of "incivility" (see Steven Salaita's new book, Uncivil Rights), and get the university to cancel events or even suspend a student group for exercising their First Amendment rights.
"These tactics are all spelled out in a new report by the Center for Constitutional Rights and Palestine Legal called "The Palestine Exception to Free Speech." Threats to First Amendment rights should concern everybody, regardless of one's stance on Israel or Palestine.
"Tactics going beyond suppression of speech, such as disrupting future job prospects or threatening bodily harm are also in the pro-Israel advocacy arsenal, and should trouble all Americans.
"All who value human rights must equally value Palestinian human rights. All who value constitutional rights should be proud and humbled by the courageous students of SJP who speak out for justice and equality in the face of suppression tactics. "
Signatories:
Minnesota Break the Bonds Campaign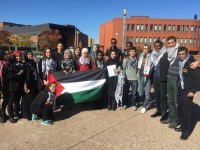 http://mn.breakthebonds.org/wp-content/uploads/2015/11/2015-SJP-300x225.jpg 300w, http://mn.breakthebonds.org/wp-content/uploads/2015/11/2015-SJP-627x470.jpg 627w, http://mn.breakthebonds.org/wp-content/uploads/2015/11/2015-SJP.jpg 960w" sizes="(max-width: 200px) 100vw, 200px" />
Coalition for Palestinian Rights – MN
Women Against Military Madness – Middle East Committee
Middle East Peace Now
Anti-War Committee
Minnesota BDS Community
United States Palestinian Community Network